When Co-Director Sarah Workneh began working at Skowhegan, the first thing she did was go through the school's institutional archives. As the school approaches its 75th anniversary, getting a richer understanding of its past has never been more important to its future.
Though Skowhegan hosts an impressive amount of archival material—decades of monitor assignments, fresco supply orders, photos of participants on the lake, and of course, thousands of lectures—this material only encompasses the institutional narrative of the school. In 2016, we began soliciting alumni to speak about their own unique Skowhegan experiences. The selection below are mostly from individuals who have had space to reflect on their summer, and the takeaways are sometimes in contrast or concert with the Dear Skowhegan letters we ask for each year, that are often still awash in the summer afterglow.
Explore the decades below.
1957/1958
Suzanne Hodes
With Bill Cummings support, I spent two challenging summers (1957' 1958) at Skowhegan. What an experience it was to eat, drink, work, and interact with other artists. Here, I could totally immerse myself in drawing, painting and supportive critiques. When I was a student at Skowhegan in the summer of 1958, there were many émigré artists as teachers, including George Grosz and Max Weber. Mr. Grosz always proclaimed the importance of the line and liked to make small line sketches in my sketchbook. In class, he spoke of the large triptych drawing "Metropolis" by Otto Dix, which is one of the strongest anti-war images ever created.
1964
Will Brown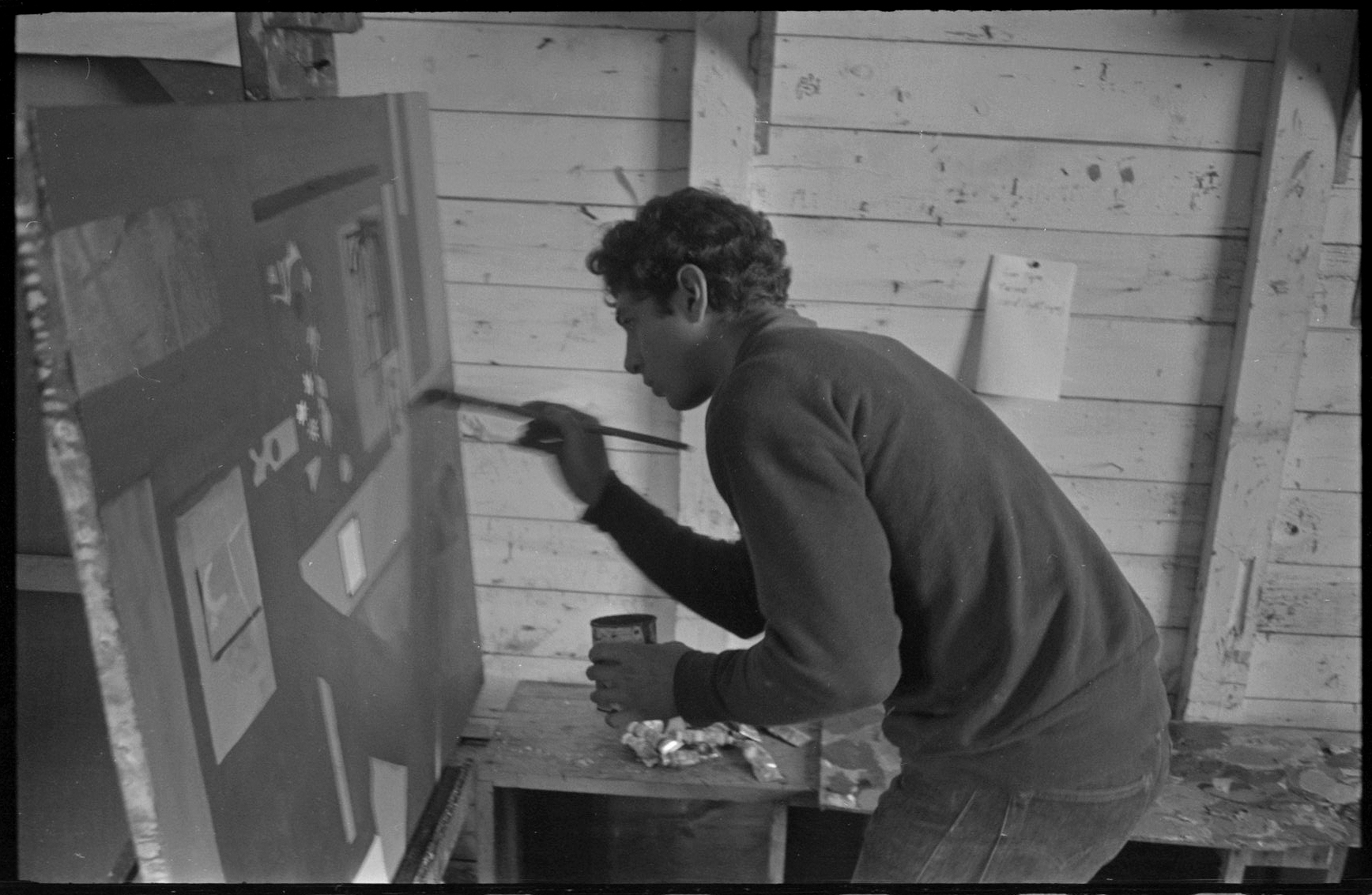 I was 19 years old, newly married, and my wife, Martha, and I went to Skowhegan directly from our brief honeymoon. My painting studio was a small stall which faced out on the lawn below the barn. It was the first time in my life that I was able to paint full time without the interruption of some sort of school structure. It was a freedom that I have waited almost 50 years to be able to fully enjoy again.
While I kept up my studio practice during my 43 year art teaching career, my thoughts always go back to those brilliant summer days in Maine. Special moments that come to mind include the weekly visits by Jacob Lawrence. He had a gift for pushing me through a few gentle comments. He was also the first person of color I ever had as a mentor—something which seems inexplicable today, but at the time opened me to an entirely new view of the world.
1973
Judith Amdur
In 1973, the painting professors were Janet Fish, Alex Katz and Paul Resika. Alex Katz told me to "paint the light, not the form." His words helped me to paint my very first landscape. I have never forgotten that phrase, even after all these years.
1987
Karen Yank
Agnes Martin and I met during our Skowhegan summer. We formed our friendship over swimming, of all things. She enjoyed watching my dedication and focus as I swam back and forth from the Skowhegan beach to the buoy each day, passing her cottage with each lap. Agnes was once a competitive swimmer and I think she was continuing her mental exercises through watching me swim.
The single most important tool she taught us that summer was to meditate before ever working on your art: with a quiet mind true inspiration can be allowed in. She believed this to be the most important tool in making art. Once it is achieved other problems such as showing, galleries, and finances will all fall into place on their own without the artist's meddling. As Agnes always reminded me, "Karen, you are an unfolding flower."
One of Agnes' lines of advice that became famous that summer was, "If you can not stop thinking about going to the beach while working, you must take time off and go to the beach. Deal with your distraction and then you will be able to work in your studio once again."
Needless to say, the beach was a very popular place that summer!
Agnes Martin was a wise soul and a generous knowledgeable teacher. She showed all of us how to be content with the smallest of life's pleasures and to be present in every moment.
I shot a video of myself called: Things Came (and will) Disappear.
My acceptance to Skowhegan in 1997 came at the right time, just a few weeks after a very meaningful relationship in my life ended. Leaving New York City for Maine to be in the company of other artists, focus on expression, creation, art, and dialogue was my life-saving grace. Never before did I feel so nurtured, respected, and encouraged to make art. It allowed me to envision myself moving forward, fueled by new ideas, inspirations, new friends, and new beginnings.
I took long walks and marveled in the solitude and quietude of nature. The trees swaying in the light wind, the reflection of the sun in water ripples, and the intensity of colors and smells stood in strong contrast to the windowless live/work loft space I then inhabited in Long Island City.
There was a particular spot, not too far from the studios, where the landscape was perfectly orchestrated: trees in the background, a field with honey colored hay and in the middle a road. The path extending into the horizon drew my attention most than all. It made me think of a journey, our long journey in life, extending all the way into the far horizon. Wide at the beginning and narrow at the end. Where does it take us, this journey?
Exploring the landscape and how I experienced it in my body, I brought my camera and tripod and started filming. I moved across the field in all directions, utilizing the path: north to south, west to east and vice-versa while stepping in and out of the frame. I was riding a bike, carrying suitcases, running forward and backwards, dressed on a white gown. I was interested in the image of a woman alone in nature. I wanted to illustrate how 'she' experiences her journey.
When I edited the footage I overlapped the images and faded them in and out before they reached the border of the frame. I was interested in creating a feeling of temporality and fragility as if the images evaporate into nothing.
A photo-collage of my Skowhegan studio, which I converted into an 18th Century style sitting room, with deep blue walls, a red floor, a satin-covered divan, and velvet, gold-tasseled pillows. I had Skowpeople come in to "sit" for their photo portrait. My photo-collage includes a photo of the studio itself, and Rick Lowe, Janine Antoni, Kerry James Marshall, Glenn Ligon, Joyce Kozloff, and Vito Acconci sitting for their portraits, along with one of me and my fellow-resident Will Rogan.
I made lifelong friends at Skowhegan; it was one of the most memorable summers of my life. It began an incredibly fruitful and inspiring new chapter of thinking about how I made art.
I fell deeply in love and I developed my studio practice during my summer at Skowhegan in 2000. The love didn't last, but I often say I learned how to be an artist during my summer at Skowhegan. I unfolded my things and pinned my inspirations up on the wall of my studio with the big windows in Upper Barn. I learned so much taking walks, thinking, opening up, listening to others, and being so in love.
I constantly am inspired and challenged in my work by those I met that summer. I use the lessons I learned there everyday in my studio, recalling them when I am in dialogue with my ideas and trying to figure out how to articulate the ways, needs, and means to go forward (and look back). It was the best summer of my life.

2000
Amy Pryor

2001
Betsy Alwin
The Saturday morning critiques were one of my favorite things. More than just seeing what people were doing, they were a way to discuss studio thought processes and share discoveries. I remember walking in the afternoon light around to different studios as a group and feeling so connected, so in the present moment. It was such a generous time.
2002
Melissa Meyer
My biggest challenge was making my first outdoor installation using nontraditional materials. I went on a "dumpster trip" with a group of artists and found an old children's school desk. I let it sit in my studio for a while because I did not know what to do with it. One day while walking, I saw fallen branches in the woods and discovered a green lawn behind Bernarda Shahn's studio. I was inspired by their beauty and shared my idea of creating an outdoor installation with resident faculty Nari Ward during a studio visit. He encouraged me to pursue creating the installation even though I had never done one before. I spent one month collecting the fallen branches from the forest and using a little wagon to transport them back to the lawn behind Bernarda's studio. A week before the residency ended, I invited my peers and faculty to see the finished work and welcomed their comments, including Bernarda who came near the end of the residency.
Skowhegan residency provided me with a time and space to think and work outside my comfort zone and challenged me to take risks and grew as a professional artist.

2006
Elena Bajo
2009
Ester Partegás
I loved to walk the road that connects the cabins to the main Campus. I loved doing that walk alone and with people, I loved it in daylight and in the dark at night. There was something transformative about it—a daily ritual that reminded me that we were in the middle of the woods, and it always felt magical!
We had a few participants that were always ready to dress up and start a dancing party anywhere. They often showed up in my cabin in their best improvised costumes. They would come, put on music, dance, have a quick drink, and leave. I loved those spontaneous visits!
It probably was their warm up for bigger, more secretive or more exciting parties somewhere else.
2013
Lindsay Preston Zappas
The instant openness and care that the community has for each other at Skowhegan is a lesson in humility, transparency, and mutual support. These are things that Skowhegan perfectly modeled that I've not only tried to bring forward into my local art community in Los Angeles, but also adopted as a mantra for my daily existence in the world.
2015
Erica Wessmann
It's all a blur but it is probably the happiest I have been in my adult life.